Hässlunda fattigstuga
Bed & Breakfast
Sadly, due to the Covid epidemic, we have decided to pause our bed and breakfast business. We will keep the website updated and hope to welcome you back in the future. In the meantime stay safe everyone.
About us
International? A pot pourri? A mixed bag? - That's us!




I'm Swiss. At a young age I followed my sweetheart to Lund to raise a family. Sven-Olov, a farmer's son from Jämtland lived and worked in beautiful, sparsely populated Norrland. Love comes to an end and the fate of many becomes a reality: you're suddenly alone in your 50s with children.

A sad story? Oh no, keep reading. This one has a happy ending! A love story!
All thanks to a dating site which chose to ignore a request for someone living in the same county/state Sven-Olov and Marlise were matched up. Like all stories and life in general, this happy turn of events wasn't without complications. We were in love but living 1000kms apart and with children still at school. In 2017 we were married surrounded by family and friends from near and far, in the beautiful old church in Ragunda. Sven-Olov continued to live in Jämtland while Marlise lived in Lund and they both longed to begin a life together.

How were we to get a life together? How were we to achieve a new start in our final years of working life?
Bed and breakfast in Skåne!
We had both toyed with the idea of running a b and b long before we met. Why not go for it now and, at the same time, create a new home? After a long search we found our spot - not exactly a dream house, no traditional Swedish dwelling covered in roses, oh no...it was
Hässlunda fattigstuga (poor house)!

Family and friends shook their heads in dismay and thought we'd gone mad. An old house with more than its fair share of faults. Oh yes it did have a garden which had potential but sadly it had been left to its own devices for the last 10 years! Masses of work needed to turn it around coupled with the uncertainty of whether it was even possible, but we'd made up our minds!

Mr Färdig's experience and knowledge of the building trade and Mrs Färdig's stubbornness plus a joint aesthetic love of history and old things, gave them strength and drove them on. Naturally nothing was straightforward and their relationship was put to the test.

But here we are the proud owners of our charmingly restored poorhouse. A house which is also our home and wonderful place of work. A real mix ready to welcome all our guests and give them a cosy home away from home.
History
Hässlunda, parish and church village, is bordering Frillestad to the west. Thanks to the short distance to Helsingborg Hässlunda has been able to preserve its original agricultural countryside. Most of Hässlunda's roads have remained the same. The church village, the only village in the parish, was probably formed in the 13th century. The oldest parts of the church are also from this time. See here. "Hässlunda church", our neighbor, is one of the many "road churches" that is open during vacation time. An ex clergyman and former Hässlunda parishioner told us about the history of the church. It was built of granite and sandstone in Roman style and consisted of nave, chancel and apse. In the north niche of the chancel there is a limestone painting from the 15th century representing "Knut the Holy One". The painting was found in 1958. In the chancel vault there are paintings with "acanthus" loops in yellow and blue. These were probably made in the 1890s. Absolutely worth a visit!

It's not only traces of the Middle Ages that can be seen. Settlements from the Stone Age are found and from the early Iron Age there are three "judgments rings" (Swedish: domarringar) and some other raised gravestones in the parish.

The name Hässlunda seems to be a description of the landscape of the place. Between 1367 and 1399 it was spelt "Haslwnda", in 1471 "in Helundhe". The name is mainly a composition of "hazel" and "grove", i.e. "hazelgrove".

The village is centrally located in the parish. The house of the village sexton is situated south of the church and the vicarage was built in 1864 in the outskirts and south-east of the church. The church village has three school buildings, erected in the late 1800s and the beginning of the 1900s. In the village there was also a POORHOUSE (workhouse). Later it was made into an old people's home, which was in use during the first few decades of the 20th century.

hasslunda-natur-och-kultur-2018-sbf.pdf

However, our building – the poorhouse – is not on the map of the brochure dating back from 1815. But the poorhouse occurred in a later description from 1850. We will look further into our exciting house and its history and will eventually tell you more about it.
Our rooms
On the ground floor of "the poorhouse" (or workhouse) is our newly renovated Bed and Breakfast: one kitchen with a breakfast room, 3 bathrooms and 4 bedrooms. "The poorhouse" had to be changed a great deal and most of the building had to be replaced by more modern and practical material. By our furnishings we have been able to show "the good old days": e.g. The high chest panel and all our wallpaper, which has old Swedish patterns. The other things here that remind us of a time long gone you have to come and discover for yourselves!

All the four room names are connected to us: "Dufva" is an old family name from Sven-Olov's family. Already in the 1400s there were some Swedish low-res men and freemen with the name Dufva or Duva (meaning dove or pigeon). Sven-Olov's mother bore the wonderful name Viola and she named our room with the beautiful flowery wallpaper. My mother's first name is Lily and she contributes with her "femininity" to gender equality here. The name of the last room stands for many things: friendship, care and good company: A good friend of ours helped us with the renovation at the very beginning. It was in January 2018 here in Scania, an icy wind, damp air, a house with hardly no heating at all; these were the working- and living conditions for our poor friend from Jämtland, who has two beautiful middle names, namely "Bror" and "Gusten". When he had returned to the "real" winter of northern Sweden to "warm up" - a little redbreast accompanied us – wherever we worked out in the yard – it was always there, just a few metres away from us. We named our little outdoor animal "Bror Gusten".
Fattighjon (pauper) Dufva
Our bright corner room with a double bed is the first room of our "poorhouse". As a guest you have access to two bathrooms, which are used by 4 more persons at the most. In the chest of drawers you will find soft bathrobes that you can borrow during your stay with us (to be used e.g. when you want to take a shower or you need to go to the toilet at night). There is free wifi of course.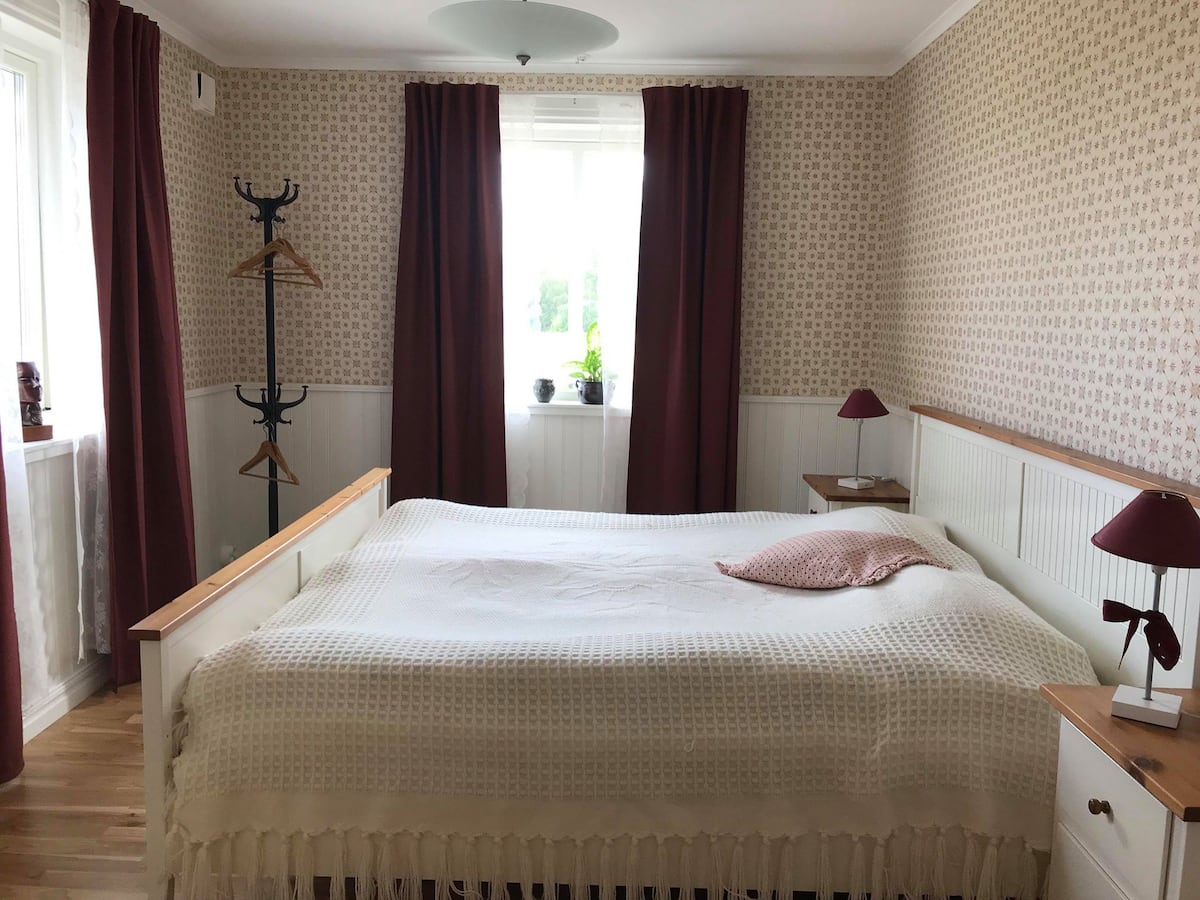 Lily
Our big room with a view over the beautiful fields is located in the middle of the house. In this room there's also a comfortable double bed but also a sofa that serves as a single bed if needed. Bathrobes are in the chest of drawers and there is free wifi of course. Two bathrooms with a shower and toilet can be reached with a few steps into the hall.
Bror Gusten
This is the double room on the second end of the hallway. This room also has two windows. Naturally there's free wifi and bathrobes. With 3 steps only you will reach the closest bathroom at the other end of the hall.
Viola
Our "luxury room" with a bathroom (with a shower and toilet) of its own. There are two windows in this room, which has a cosy reading corner. Here you can enjoy the birds singing and a quiet time out in the countryside. But naturally you also have access to modern communication such as free wifi.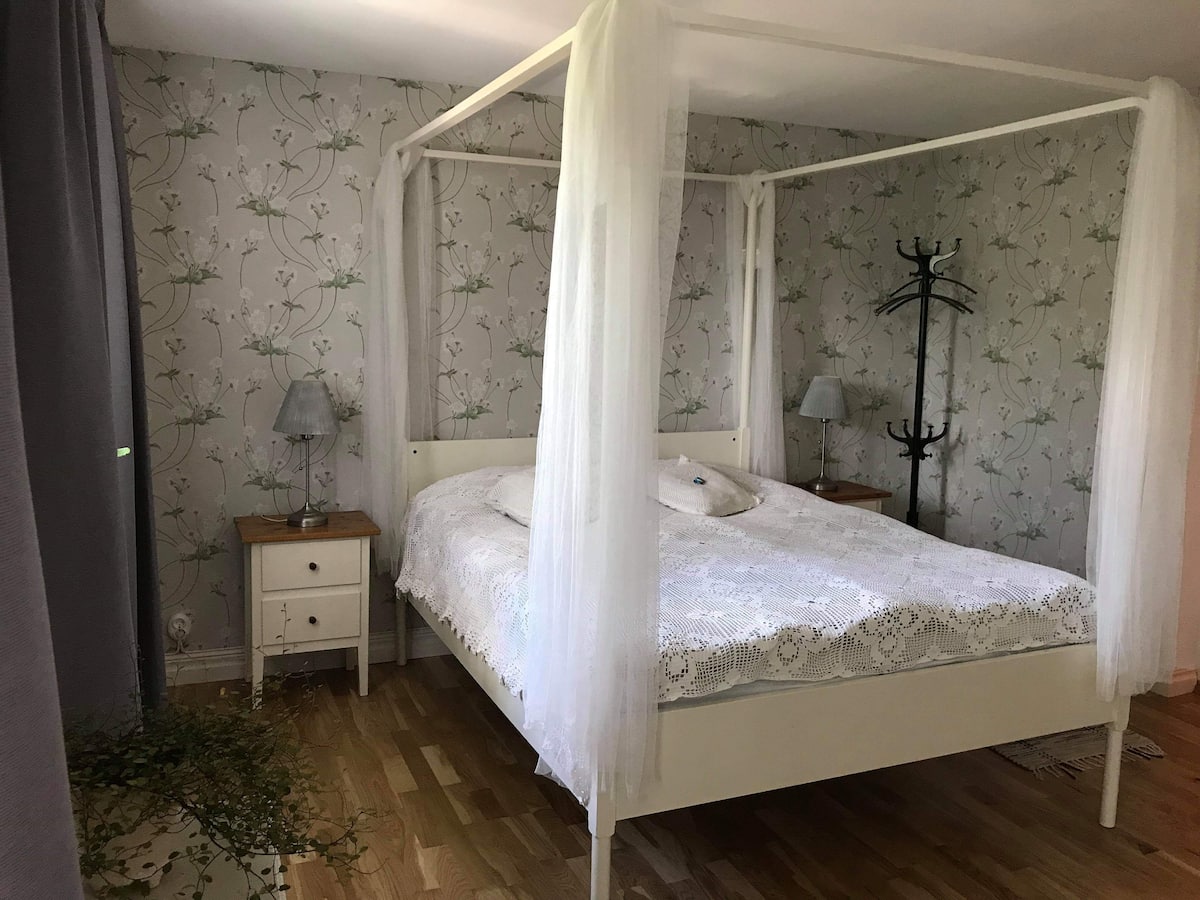 4 rooms and a kitchen
Perhaps you're a group of friends who want to spend a week playing golf on one of the four golf courses nearby? Or you might be a couple of families who want to participate in Vallåkra's "car- and folkparty" at the August weekend? Then don't hesitate to book "the entire kit" - e.g. all our 4 rooms. If you prefer catering on your own and have the whole of the ground floor to yourselves during a longer time, then just ask us in good time and we will surely work something out for you.
We offer
Breakfast
Wifi
Dish washer
Flat iron
Hair dryer
Parking
Pet friendly
To do
Golf
There are no less than 5 golf courses within 20 minutes drive by car from our "poorhouse". The closes one can be reached after only 5 minutes drive: Söderåsens golf club. The restaurant of the club offers fantastic lunches, which attract visitors from everywhere.

A little more than 10 minutes away from Hässlunda you will find Lydinges golf club, and Vasatorps GK.

Seaside golf since 1943 is the same as Rya Golf Club in beautiful Rydebäck, a quarter of an hour away from us. And if you go up-country you will reach Allerums golf course within 20 minutes.
"Skåneleden" - a famous hiking trail – on foot or on two wheels!
To hike in beautiful Scania (Skåne) is a pure joy! Skåneleden is all together 1250 kilometers long and is divided into several different parts, so everybody can choose the best hike and landscape that suits every one of us. "SL3 ås – (ridge)" is the trail closest to our bed&breakfast and which runs from Åstorp at the foot of Söderåsen to Brösarp at "Österlen".

On 2nd June 2019 a new bike trail was inaugurated - the 260 kms long Sydkustleden (South coast trail) that runs from Simrishamn to Helsingborg.
Events
Eskilscupen is one of Sweden's biggest football tournaments and it takes place in the football city Helsingborg. Every year about 13,000 players in 700 teams participate in this cup, that has been played since 1968. "Eskilscupen" i a meeting place for young people and their leaders, who are looking for joy, being together, fair play etc. This is a tournament of highest quality.
Vallåkra
It's a town in the municipality of Helsingborg, 10 minutes drive from the "poorhouse". It may not sound particularly exciting, but doesn't i sound familiar to you? Perhaps you will be one out of 12 – 15,000 engine fans, who every year spend a weekend watching styled, rebuilt or completely renovated cars there. This is a festival for your entire family with competitions, entertainment and spectacular shows just nearby. For more information click here.

And why not extending your visit by exploring Wallåkra stoneware factory? Follow the whole production chain from clay to the finished product or why not trying out taking a seat at one of the turntables in the 150-year-old workshop? Or you might choose to have a lovely meal in cultural surroundings or perhaps you just want to enjoy the beautiful scenery that surrounds the factory.

Just a few minutes away you will find the lovely tomato house. Which in fact are several different "houses": a restaurant, a bakery, a store where you can buy not only lot's of different kind of tomatoes but even other things produced with lots of love and care for you to taste.
Shopping
Stroll around in the cosy centre of this port or indulge in all the different shops and boutiques at Väla Centre. To read more about shopping click here.
Sofiero Castle
Castle environment, full of activities. Exhibitions, concerts, guided tours, restaurant, boutique etc. Why not getting married in the beautiful park?
To see
Nature and Culture
Lying a short distance north east from here (10 minutes by bicycle) lie Bjuvs Mölledammarna. The ponds were created in the 18th century and are situated in a picturesque deciduous forest offering beautiful walks. Very popular for a day out, especially when the ice is thick enough for skating. On Sundays there are bingo/quiz walks; on Good Friday an egg walk and on Christmas Day a Christmas walk. Vegeåns hiking trail is named after the River Vege which is approx. 55 kms long and stretches from Söderåsen to Skälderviken Bay.




Söderåsens National Park
Created in 2001 this is one of the largest protected wildernesses in Sweden. About 35 kms from Hässlunda you come to Skäralid, the hub and starting point for a variety of hiking trails and spectacular views. There is Hjortsprånget or fantastic Kopparhatten, at 200m the park's highest point. Lying in the Nackarpsdalen valley you find the circular lake, Odensjön, surrounded by 30m steep mountain sides. Or why not visit Naturum with its exhibition.

Much closer, slightly less spectacular, but nonetheless beautiful and peaceful, we have the valley of the river Rå. Here you can begin your walk either at Dalstugan in Gantofta or, by first taking a 10 min car journey, you can start a 3 km walk at Görarp. A 7,5 km walk takes you past Raus church. Built in the 12th century it is the oldest medieval building in Helsingborg. Reward yourself with a coffee or light lunch at the cosy cafe.




Ramlösa spa park is best known as the source of Ramlösa mineral water. As well as tasting the iron rich water straight from the well, there's much more to do in this park.

The whole west coast of Scania feels like a smorgasbord of beautiful scenic spots:

The island of Ven is situated in "Öresund", approximately 4.5 kms from the Scanian west coast and 8.5 kms from Själland in Denmark. It can be reached be ferry from Landskrona or Helsingborg. Rent a bike and explore the island at your own pace, cool off with the home-made ice cream ot the island or visit the Tycho Brahe museum!

Helsingborg
It only takes 15 minutes by car to reach the city centre. At "Knutpunkten", the main railway station, you can take a ferry that enables you to go abroad in 20 minutes: Helsingör in Denmark can be seen from the shoreline of Helsingborg. Culture, food culture, beach culture etc. We could have written a novel – but you had better go and look for yourselves.

Words can barely describe "Kullaberg" - another dramatic nature reserve northwest of Helsingborg! Judge for yourselves.